AAUW has been empowering women as individuals and as a community since 1881. For more than 140 years, we have worked together as a national grassroots organization to improve the lives of millions of women and their families.
AAUW Mission:
To advance gender equity for women and girls through research, education, and advocacy.
The Half Moon Bay branch covers the broader section of the coastside with members ranging from the south in Pescadero to the north in Montara, east to Woodside with Moss Beach and El Granada represented, too. The branch supports various programs, including scholarships and STEM programs.
The educational enrichment programs are financed with proceeds from several fund-raising initiatives. Here is an update on our latest fund-raising event:
---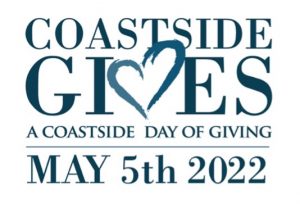 GIVING DAY A GREAT SUCCESS!
Our Coastside Gives 2022 fundraiser exceeded expectations! Thanks to you we met our match and raised almost $16,000.00!
CONGRATULATIONS, EVERYONE! 
What a boost for our Branch! As an institution on the Coastside for 55 years, we exemplify this quote from AAUW's national website: We are tenacious and trailblazing – advocating for women and girls since 1881 and into the future!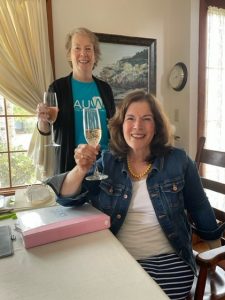 So many people helped us all Touch the Future in this campaign. From the onset with matching donors who gave so generously, others helped with postcards, made phone calls, displayed lawn signs, worked on social media, and everyone who GAVE! You spread the word, encouraged donations, and made Coastside Giving Day 2022 our most successful yet. Kudos to all of you! Our branch is vital to our community in support of women and girls pursuing dreams of all shapes and sizes. Be proud. We are Touching the Future together!
Sincere thanks for your support!
Jan Grierson and Mary Sheridan, CG 2022
THANK YOU! THANK YOU! THANK YOU! 

Special Giving Day Gratitude 
We owe a large part of this year's success to Carol Joyce who led the Coastside Gives campaign for our Branch for five years. Carol's stewardship of this initiative made it easy to continue participating in Coastside Gives. Her expertise and mentorship has been invaluable. Thank you Carol, and all who have worked so diligently in the past to make Coastside Gives successful for our Branch. We appreciate you!
2022 Giving Day Gratitude to the following:
Email Blasts – Chris Ortega
Lawn Signs and Posters – Kathleen Freitas, Jan Grierson, Sue Hatfield, Angeline Hnatt, Beth Myers, Gladys Picht, Mary Sheridan, Barbara Von Glahn, Mary Wynne
Long Distance Donor – Terry Kujawa and son Tony Kujawa
Make It Main Street – Peggy Rozhon, Patti Landry, Sue Hatfield, Len Carlson
Matching Fund Donors – June Baxter, Jidge Boell, Vivian Costello, Nancy Evans, Julie Gerth, Jan Grierson, Angeline Hnatt, Carol Joyce, Lisa Lopez Rossi, Ruth Rafello, Mary Sheridan, Sheila Spieller, Barbara Von Glahn, Allene Zanger
Night Owl and Midnight Madness – Peggy Rozhon, Wendy Lama
Phone Calls – Irene Baume, Vivian Costello, Nancy Evans
Postcards – Angie Fazio
Radio Interview on KHMB – Pat McNutt
Social Media Support – Len Carlson, Suzanne DuFore, Paulette Eisen, Angie Fazio, Carol Joyce, Mary Knippel, Patti Landry, Mary Alice Pearce
Tidings – Sara Hayden
Sincere apologies if we've omitted anyone! THANK YOU ALL!